Daxico is a new exchange, wallet and peer-to-peer cryptocurrency payments platform. While the main usage is as a place for customers to trade, we can also use it for saving our crypto or doing peer-to-peer payments. Even though it is new, Daxico claims that they connected with or provide liquidity to ensure the best trading experience. Can you use this platform as an alternative exchange, or even use this as your main exchange? Before you answer that, you should know more about Daxico.
Features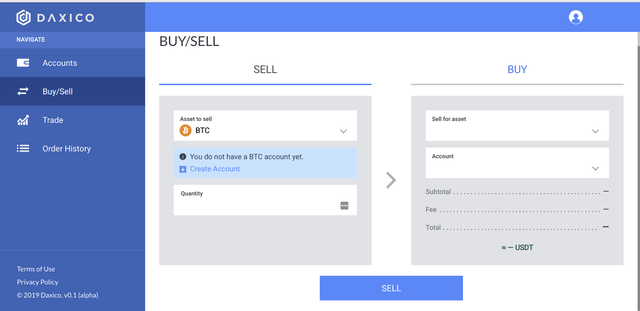 As I mentioned earlier, Daxico offers an exchange, wallet and peer-to-peer payments. The exchange itself offers more than 100 digital assets. Daxico claims to have low spread, high volume and fast execution speed due to their liquidity provider. This means that you can trade without waiting buyer/seller for too long or risk your asset due to high volatility or big spreads.
It should be noted that at this moment of writing, there is a limited feature on the exchange graph. If you want to use technical indicators such as the Bollinger band and so on, you'll need to wait for the next upgrade. But you can already use the exchange and change the timeline for the graph, such as daily, weekly, or monthly candle.
On the wallet side, there are some features that you won't see on other exchanges. Daxico offers a way to create multiple assets, accounts or users with different access privilege. This means, with a single account, you can create or manage different wallet address, which is a good thing if you want to stay anonymous and prevent others from linking your wallet address to an exchange. You can use these multiple wallets as you wish, name it according to your needs and then use it to deposit/withdraw after you trade.
The last feature is P2P payments. Daxico will allow you to send crypto to other users account, without any fees because it didn't happen on the blockchain. Instead, Daxico will more or less "send" your crypto to someone else account. This means Daxico will act like a funds manager that can move or transfer the ownership of some assets to somebody else.
UI & UX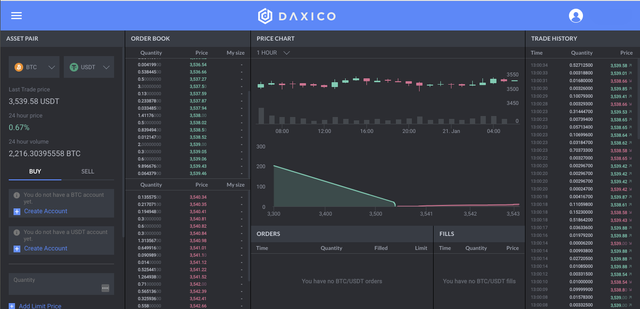 If you visit the website, Daxico will greet you with a login/registration page. After you log in, you'll enter the app site which has blue and white color as the main color. There is a left side-bar which you can use to navigate the platform. Everytime you click one of the navigation button listed there, you'll be directed to another page.
The interface is quite straight forward. For example, the Buy/Sell page will redirect you to an instant buy/sell page where you can sell your crypto directly (possibly according to the market price at the moment you submit your order). Select the asset you want to buy/sell, which asset you want to receive in return and which wallets that you use. After that, submit your order.
If you click 'Trade', you'll go to the trading platform where you can place an advanced order, make a limit or spot order. The trading page looks quite nice, with more or less a black/night theme, unlike the main page. I personally like this better. It's also fast, even though I don't use it to trade yet, I can navigate the platform quite easily. We need to wait if we want complex features such as technical indicator though.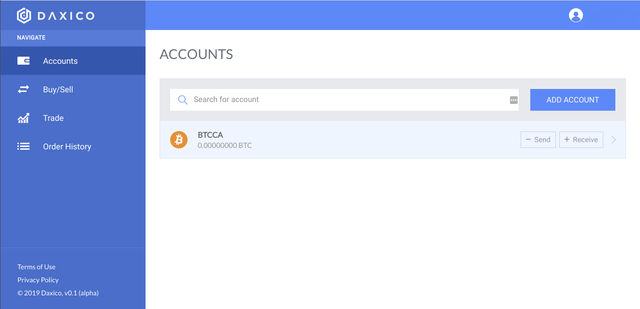 Conclusion
My overall impression for Daxico is great, even though there are several issues that need to be addressed such as team details (don't want to be scammed and can't sue later), technical features and so on. But if you don't mind those two, Daxico looks like a solid alternative if you want to exchange anonymously. Yes, you don't have to go through unnecessary KYC/AML here if you want to trade, and it also protects your privacy.
Stay tuned for more articles about Daxico. In the meantime, read more about Daxico here:
Disclaimer
This article is created for potential rewards from Daxico bounty campaign. The Bitcointalk profile of the writer of this article is iulius99. Readers are encouraged to read about Daxico on their own. Do your own due dilligence.