In this page, let's learn the details of TEE coin.
– TEE coin is one of the tokens (crypto currency) issued by TRIM Network.
– TEE coin is a name of Singaporian company "TEE-COIN PTE.LTD", and we call "TEE coin Inc." on this website.
TEE coin & Chat tee
TEE coin, simply saying, is a coin you can get in compensation for your review for merchat service (restaurant, hotel, ect.). In addition, you can keep TEE coin in the app "Chat Tee".
Chat Tee is an app that you can write reviews for merchat service (restaurant, hotel, ect.) and get TEE coin.
*You can also use TEE coin at the merchant service which participate in Chat Tee.
The following picture is an actual screen of Chat Tee, where you can see lots of reviews and merchant services are listed on.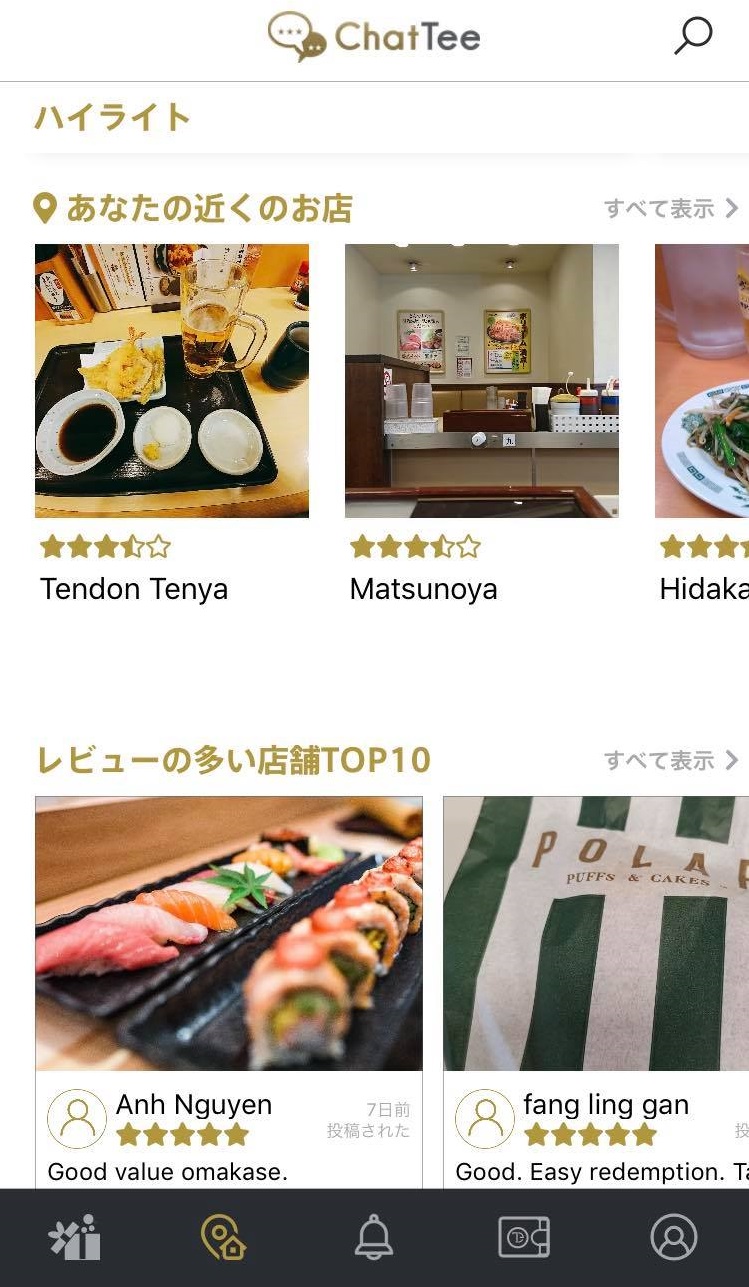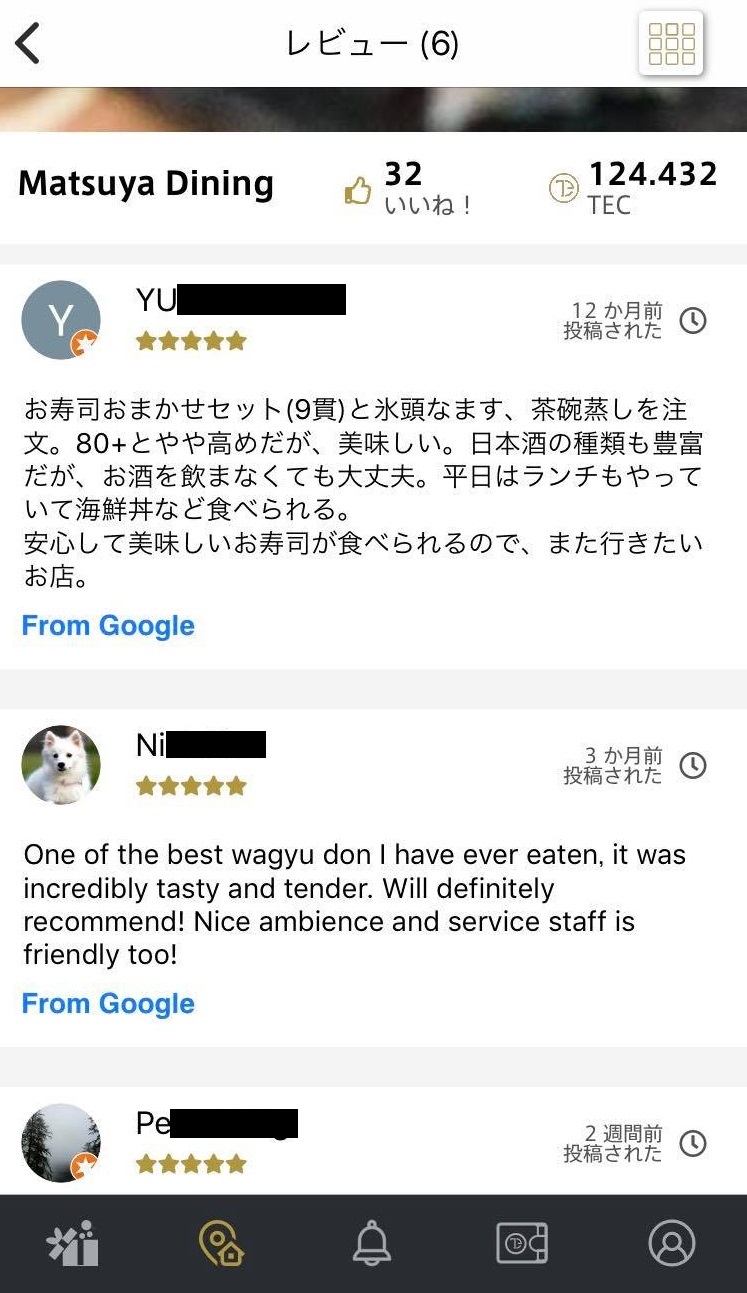 *Register at Chat Tee : here
*Official Website TEE coin : here
*Official website of Chat Tee : here
*Official Telegram of Chat Tee : here
OK, these are just an overview and until now, you may think "Oh,Chat Tee is not unique at all. It's just like other existing apps…".
ChatTee has a big competitive advantages in AI and block chain, compared to other apps.
The following graphic image is an overall view of ChatTee.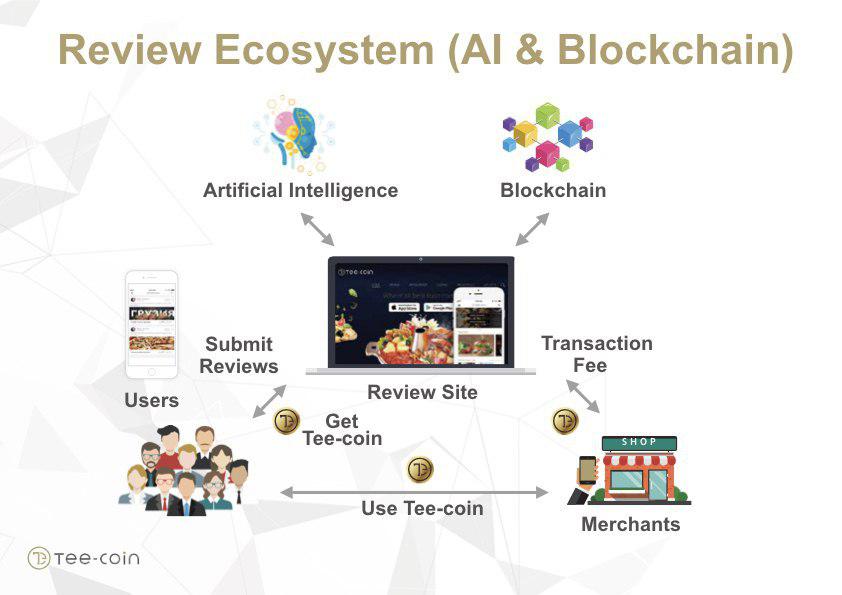 You may have experienced that you checked reviews at the destination you are not familiar with, and you may also know those reviews are so helpful.
In these days, whoever uses the internet checks reviews. In other words, these reviews are very important and directly linked to the merchant sales.
However on the other hands, there is a fact that fake reviews (over-evaluating, or bad reputation to competitives) are also found as these reviews have a big impact. This problem may sometimes cause a troubles, such as an overprice fee to users.
Here, TEE coin Inc. has developed the world's first system that such a big problem can be solved, and has been updating it.
When this system will be loaded, the fabricated/ poisonous reviews will be filtered and cleared out, and ChatTee will be able to create more trust through transparency.
* This AI system will be loaded within this year!
When the user can get an fair information based on the trustable reviews, you can tell it would help them a lot to visit hotels and restaurants for their first time.
Thanks to this fair-review project, you can see there are already over 40,000 merchat service have participated to ChatTee (as of March 10, 2019).

Until now, ChatTee has been used in Singapore where the Tee coin Inc. is based at, and this app will be expanded to Japan and many countries in Southeast Asia.
Just for your information, this is an video of TEE coin in English.
Also, just for our infomration, the origin of name TEE Coin is,
T

hank You For Sharing Your

E

xplorations And

E

xperiences, which means "Thanks coin" of sharing one's exploration and experience. What a wonderful concept!
Then, let's install ChatTee and start to use it. Currently, you can get TEE coin for free if you just install it!
– Register at ChatTee : here.
Who gets involved with TEE coin?
In order to spread TEE coin to the world, the performance of the coin itself is of course important. But moreover, the partnership with a company or key-person who has a large influence to society is also important.
So here, let's see 3 key people who get involved with TEE coinm project from the official website.
Mr. Patrick Chee (CHAIRMAN)

As a crypto currency is new to the financial industry, there are still many bottlenecks for emerging start-up companies in terms of a low.
So, the fact Mr. Patrick Chee, a international & professional counselor-at-law, get involved with this project is one of the greatest reason to expand ChatTee to the global market.
Mr. Leslie Yong (CEO)

Since Mr. Leslie Yong is highly qualified person, he may have a big influence to merchants (stores, restaurants etc.) in Singapore. To expand ChatTee more speedy & widely, the fact is a competitive advantage that he gets involved with this project.
Mr. John Teo (Advisor)

Mr. John Teo is known that he used to work as a corporate officer at Temasek Holdings, a largest investment company.  Let's check wiki below about Temasek Holdings.
Temasek Holdings (English: Temasek Holdings) is an investment company that Singapore government owned (sovereign wealth funds). 380 employees at the time of the March 2012 is 198 billion SGD operations in Asia [3] . Shares held by the financial, communications, media, technology, traffic, transportation, real estate, energy, diverse natural resources. Temasek Holdings is one of the most high-rated investment company in the world, rating by Moody's, Aaa, rating by Standard & Poor's is a AAA [4] .
At the most recent information, managed assets of Temasek Holdings is said 308 billion SGD as of March 2018, and also said it is one of the most successful government-affiliated investor in the world.
In addition, according to Standard & Poor's and Moody's Corporation, the top 2 financial analysis company, Temasek Holdings is rated as almost highest, and is actually higher than Japanese insurance company listed with first section of the Tokyo Stock Exchange.
Moreover, Temasek Holdings is involving many subsidiary companies such as Singapore Airlines, DBS Bank and Singtel. It's easily expected TEE coin will be possibly used at these major companies!
OK, that's all about "What is TEE coin?". In terms of the partnership with a company or key-person who has a large influence to society, the future of TEE coin is exciting enough!
Let's install ChatTee and get started!
Currently ChatTee offers you a free TEE coin if you just install it!
Register at ChatTee : here.